Why Advertising/ Marketing Agencies Partner With Us: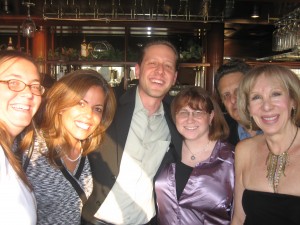 Our principles with WOR RADIO staffers and syndicated radio personality Dr. Joy Browne.
We have partnered with some of the direct-response industry's top agencies to serve as their "radio division" or "radio strategic partner." We maintain to your clients that we are part of your/our partners' in-house teams. Strictest client confidence is ALWAYS maintained, and Non-Disclosure Agreements happily signed.
We'll work out the fairest possible revenue split, and increase BOTH of our billings right away! We have NEVER, EVER parted ways poorly with a strategic partner agency. Yours can be the next partner to help bill new dollars by subcontracting creative/media/client management to us.
If you have a client who has incremental marketing dollars and is apt to test radio, or wiling to retest following a failed campaign, The Radio Solution Company will handle your planning, negotiating, purchasing, added value and all other aspects of the campaign. You can act as interface between us and your client, representing us as part of your team.
When you contact us, we will give you 100% honest feedback as to whether our services are the best fit for your agency and your clients. Our reputation is MISSION-CRITICAL, and that's why after 19 years, we maintain high levels of satisfaction with our strategic marketing partners. We truly understand that you are putting your reputation on the line when you partner with us, and honor that completely!