WHY DIRECT-MARKETING PROS/DIRECT RESPONSE MARKETERS CALL US: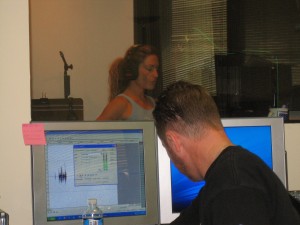 Producing a Client Radio Spot with Reality TV's Rebecca Cardon
If you have tested radio advertising in the past, and it "didn't work", there are a host of reasons that failure could have been avoided. We test offers on radio using different methodologies than ANYONE. You WILL notice a difference testing direct-response radio with us.
We have tested nearly 300 direct-response radio campaigns in the past 17 years, and enjoy great relationships with all major radio ownerships to get lowest possible test-rates (often at 30 to up to 90% off rate). We test cost-efficiently and meticulously, and DON'T waste test dollars.
We openly share historical insight from both successful AND failed tests to give you step-by-step guidance  as to why we suggest the tests we do for your offer.
We help you craft  a GUARANTEED WOW offer, or an Idiot-Proof Reason as to why the listeners should CALL NOW, to optimize your test radio ad campaign's chances for success.
If you have gleaned marketing intelligence from other campaigns as to what demographics or regions are most apt to test well for your offer, AND if you have the existing media funds to test, radio may be your next ideal test medium. When you contact us, we will give you 100% honest feedback as to whether we feel our services can hep you successfully test direct-response radio as a new marketing channel.
We DON'T take on clients UNLESS we feel we can test you successfully. Our reputation is MISSION-CRITICAL, and that's why after 17 years, we maintain high levels of client satisfaction.